DIAMO, state enterprise
Stráž pod Ralskem
DIAMO, state enterprise, with its registered seat at Stráž pod Ralskem, is an organisation dealing with elimination of consequences of mining activities after uranium, ore, and partially also coal mining in the Czech Republic. The company also ensures the production of uranium concentrate for the nuclear power industry.
13

Mar
Sanace ostravských lagun postupuje
Likvidace jedné z největších ekologických zátěží v České republice pokročila. V příštím týdnu bude zahájen odvoz upravených kalů z areálu lagun po chemičce OSTRAMO v Ostravě. Odstranění zbylých kalů proběhne na základě dohody mezi společností AVE CZ odpadové hospodářství a společností Sokolovská uhelná.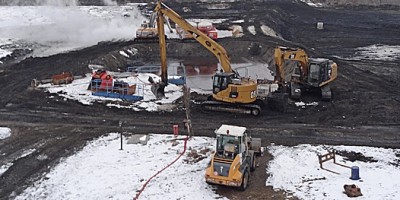 09

Mar
Občasník DIAMO březen 2018
Odtěžování kalů na lagunách OSTRAMO, Oprava šachetní budovy dolu Drkolnov, Turnaj v halové kopané na o. z. TÚU, Hornický ples ve Stráži pod Ralskem, Velikonoce v Hornickém muzeu, Montanrevue